Irish sea moss: benefits, consumption and faq
Sea moss was always spoken of very highly by Dr. Sebi, and for those of us that follow his diet it's pretty much a staple food that is part of our everyday lives. 
That said, there still seems to be a lot of confusion surrounding which type (species) of seaweed is actually "Irish moss" as well as the nutritional value it possess.
Irish moss or sea moss?
The name "Irish moss" originally comes from the historical use of Chondrus crispus by the Irish. 
However, today, depending on where you are in the world, "Irish sea moss", "Irish moss" or simply "sea moss" may refer to a number of different seaweeds including (but possibly not limited to) Chondrus crispus, Kappaphycus alvarezii (a.k.a Eucheuma Cottonii) as well as various species within the Gracilaria genus.
Despite being called a "moss", all of these seaweeds are actually types of red algae of which there are 1000s of species.
Edible red algae, or Rhodophyta, are known to possess high amounts of protein, minerals, vitamins, essential fatty acids and are typically rich sources of antioxidants. [1]
Which did Dr Sebi use?
In several instances Dr. Sebi made reference to Chondrus crispus, for example in this video.
However, this is likely a mistake as this particular species of red algae does not grow in warmer climates.
Instead a species belonging to the Gracilaria genus, which grows in places like Jamaica and St. Lucia, and is generally yellow as opposed to purple, is likely what he is referring to when claiming to have seen sea moss on top of the ocean that looked like gold.
Gracilaria
Gracilaria is a genus within the Gracilariaceae family, and is "the third largest genus of red algae with over 150 species worldwide". Nearly 28 species of Gracilaria have been reported from the Indian coast. [4]
Gracilaria is noted for its economic importance and is mainly cultivated and harvested in Asia, South America, Africa and Oceania for the production of Agar, providing more than 50% of the world's supply. [4]
Agar is used as "a laxative, an appetite suppressant, a vegetarian substitute for gelatin, a thickener for soups, in fruit preserves, ice cream, and other desserts". [3]
Additionally, various species of Gracilaria are used in soups and salads in several countries such as Korea, Thailand, China, and Japan where it is known as ogonori or simply "ogo". 
Chondrus crispus
Traditionally thought of as a "poverty food" during the potato famine of 1846-48, Irish moss has been used as a cold remedy and treatment for respiratory ailments such as tuberculosis and pneumonia since 1810.
Chondrus crispus grows in cooler waters and appears in abundance around the rocky parts of the Atlantic coasts of Europe, especially Ireland and the UK as well as Iceland, the Faroe Islands western Baltic Sea to southern Spain. It can also be found on the Atlantic coasts of Canada and North America. [2]
In it's moist, natural state, it possesses a soft and cartilaginous consistency and can have varying colors from a greenish-yellow, through red, to a dark purple or purplish-brown.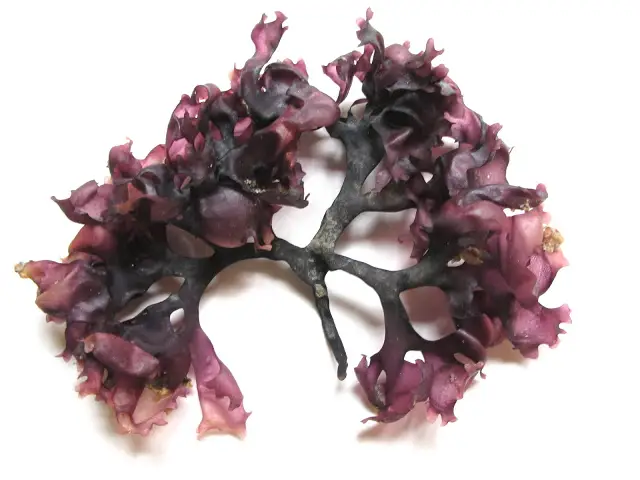 When washed and sun-dried it has a yellowish and translucent appearance, which, if you purchase the dried herb is usually how it will look.
Which sea moss should I get?
While the potential health benefits highlighted in the section below primarily consider the nutritional content of Chondrus crispus (purely because data and studies are much more readily available for it).
Based on the undeniable evidence regarding the beneficial properties of seaweeds on our health, it would be fair to assume that there are benefits for consuming either.
Many people claim the energy boost from the Gracilaria variety is superior, for example.
Ultimately it largely depends on availability, budget and personal preference.
Potential health benefits of Irish moss
Based on data from the USDA database and various studies on the health benefits of red algae and Chondrus crispus specifically, it's abduntantly clear that this powerful plant has a lot to offer.
Increase energy levels
Irish moss contains an abundance of vitamins B2 and B9 and therefore may have an energy-boosting effect as your body converts food into energy in a more optimal way. 
B2 breaks down the proteins, carbs and fats and B9 is required to form DNA and other genetic material.
Improve immune system and antiviral properties
Irish moss is rich in zinc, an essential component of the immune system response, and is therefore very effective in "boosting" the immune system.
Additionally, studies show that "red seaweed Chondrus crispus has been reported to have a wide range of health-promoting activities, such as antitumor and antiviral activities". [5]
May help with digestion
The high fibre content of Irish moss acts as a mild laxative while the demulcent (an agent that forms a soothing film over a mucous membrane) properties of Irish moss soothe the membranes of the intestinal tract.
Additionally, a study conducted on animals shows that it can also have a prebiotic effect during the digestion process resulting in; an increase in beneficial short-chain fatty acids in the colon, cleansing of bad bacteria in the gut, and an improvement in overall gut health and immunity. [6]
Improve thyroid function
As we've already established, iodine, used in the production of thyroid hormones, is of critical importance for healthy thyroid function. Irish moss, along with other types of seaweed, is one of the richest sources of iodine on the planet.
Skin nourishment
Many people use Irish moss masks to soothe eczema, psoriasis, dermatitis and burns because of its vitamin and mineral packed jelly-like qualities. Studies have found that Irish moss can also improve cell growth due to the compound citrulline–arginine. [7]
This compound also releases amino acids that are essential for protein and collagen synthesis. Collagen is important for smooth skin and silky hair.
Emotional health and brain functionality
The high levels of magnesium contained in Irish moss contributes to optimum brain function and overall mood. Low levels of magnesium in the diet have been linked to an increased risk of depression. [8][9]
Additionally, research has also been done into the "neuroprotective effects" of Irish moss, indicating that it may protect brain tissue from neurodegenerative disorders such as Parkinson's disease. [10]
Preparing sea moss for consumption
Most people consume sea moss as a gel or powder. Below we are going to look at each of these processes.
Firstly though, does it lose its nutritional properties once converted into a gel or powder?
No it does not, however, cooking the sea moss may result in some loss, especially if cooked for prolonged periods at high temperatures.
Refer to the section titled cooking with Irish moss for more information on nutrient loss and retention when cooking.
Turning raw sea moss into gel
The process for turning raw sea moss into gel is very simple and is as follows.
Rehydrate the moss by soaking it in water overnight or for 4-6 hours.
Rinse it thoroughly to clean off any debris.
Add the Irish moss and water to a blender, less water will produce a thicker gel and vice versa. Blend it for a few minutes and it will start to form into a gel.
Add a dash of grapeseed oil (optional)
Pour into a glass container, cover and place in the refrigerator to thicken and set. 
Some people also prefer to boil/simmer the Irish moss in water to help break it down before blending it.
Irish moss gel can keep for about 2 weeks in the refrigerator.
Powdering the herb
The easiest way to powder dried Irish moss (or any dried herb) is to use a food processor, electric coffee grinder or the traditional mortar and pestle.
If you do decide to use a coffee grinder, don't use the same grinder for both coffee and herbs to prevent the residue from mixing.
Making sea moss capsules
Making your own sea moss pills is pretty straight forward and being able to pre-make a stockpile of capsules once a month for daily consumption is really convenient and saves some money.
Depending on whether you are using powdered or just dried herbs the process involves a couple of extra steps. Basically, if the herbs haven't been ground up, you'll also need a grinder such as a coffee grinder and a fine sieve.
Equipment / Material List:
powdered sea moss
powdered bladderwrack
grinder (for dried herb)
bowl and fine strainer (for dried herb)
00 vegan capsules
00 capsule machine
Bottle for storage
Cotton (to protect capsules from moisture)
If you are using powdered herbs you won't need a grinder or strainer and can instead just mix the sea moss powder and bladder wrack powder in a bowl before filling your capsules.
This is a really clear and concise video showing you how to encapsulate dry herbs using a capsule filling machine.
Key points to remember:
After popping filled capsules out of the machine, you may need to ensure the head and base of each capsule is properly pushed together and not loose.
Try not to touch the powder too much with your hands, a rubber spatula to aid in pouring powder from the mixing bowl into the capsule tray is a good idea.
Sea moss tea
Here's the standard way to make tea using your sea moss gel. This will be pretty flavorless so you can sweeten it up with agave nectar or date sugar if you wish.
Ingredients
Irish moss gel
Filtered or spring water
Ginger (optional)
Agave nectar or date sugar (optional)
Directions
Add ginger to a pot. (optional)
Add water, bring to a boil then reduce heat and let cool slightly.
Add your Irish moss gel at a ratio of one part gel to four parts water. 
Cooking with Irish moss
Once turned into a gel, Irish moss is incredibly versatile and pretty much flavorless, after you've added it food it's almost completely undetectable. In regards to nutrient loss with cooking.
Water-soluble vitamins such as C, B2 and B3, for example, as well as some minerals, i.e. potassium, magnesium, sodium, and calcium may be reduced during cooking. [7]
That said, the cooking methods you employ do have an impact on how much of the original nutrient content is preserved.
Studies have shown that mineral (and some vitamin) loss is more prone when boiling, with parching, frying and stewing to have less of an impact. [11][12]
Boiling
Boiling food, especially vegetables, means that much of the nutrition has a tendency to leach out into the water. This is generally fine as long as the water is consumed. [11]
With that in mind, soups are one of the easiest ways to introduce Irish moss into your diet ensuring that most (if not all) of the nutritional properties are retained.
Stir-frying
Stir frying is generally an acceptable way to cook with relatively low nutrition loss. [13]
When we stir fry we cook the food on a high heat for a short time. The key to minimizing nutrient loss is to constantly "stir" the food rather than letting it sit and exposing it to high heats for extended periods.
The next time you make a vegetable stir fry, try adding a few tablespoons of sea moss gel towards the end of the cooking process. It's a great replacement for things like corn starch which is often used to create a sauce base.
Points to remember when cooking sea moss
Avoid cooking for over-extended periods on high heats
Boiling or simmering is fine as long as you consume the water in its entirety, don't throw that nutrition down the drain.
Frequently asked questions
How long until I start seeing benefits?
There is no definite answer to this question. While some people claim to feel benefits within a couple of weeks, the consensus seems to be 2-4 months, with potentially less or more time depending on the digestive flora of the individual.
It is much more productive to consume smaller amounts over time (daily) as opposed to large amounts occasionally with "continual exposure to the new food material being the key to bacterial dietary adaptation". [14]
Where to buy Irish moss?
Since the pandemic hit suppliers have been running out of stock left, right and center. After quite a bit of searching I found this company.
References
[1]: Red algae. (2020). In Wikipedia. https://en.wikipedia.org/wiki/Red_algae
[2]: Chondrus crispus. (2020). In Wikipedia. https://en.wikipedia.org/wiki/Chondrus_crispus
[3] Gracilaria. (2020). In Wikipedia. https://en.wikipedia.org/wiki/Gracilaria
[4]: Baweja, P., Kumar, S., Sahoo, D., & Levine, I. (2016). Biology of Seaweeds. In Seaweed in Health and Disease Prevention (pp. 41–106). Elsevier. https://doi.org/10.1016/B978-0-12-802772-1.00003-8
[5]: Liu, J., Hafting, J., Critchley, A. T., Banskota, A. H., & Prithiviraj, B. (2013). Components of the Cultivated Red Seaweed Chondrus crispus Enhance the Immune Response of Caenorhabditis elegans to Pseudomonas aeruginosa through the pmk-1 , daf-2/daf-16 , and skn-1 Pathways. Applied and Environmental Microbiology, 79(23), 7343–7350. https://doi.org/10.1128/AEM.01927-13
[6]: Liu, J., Kandasamy, S., Zhang, J., Kirby, C. W., Karakach, T., Hafting, J., Critchley, A. T., Evans, F., & Prithiviraj, B. (2015). Prebiotic effects of diet supplemented with the cultivated red seaweed Chondrus crispus or with fructo-oligo-saccharide on host immunity, colonic microbiota and gut microbial metabolites. BMC Complementary and Alternative Medicine, 15(1), 279. https://doi.org/10.1186/s12906-015-0802-5
[7]: Advances in Botanical Research. (2014). In Advances in Botanical Research (Vol. 71, p. ii). Elsevier. https://doi.org/10.1016/B978-0-12-408062-1.21002-0
[8] Serefko, A., Szopa, A., Wlaź, P., Nowak, G., Radziwoń-Zaleska, M., Skalski, M., & Poleszak, E. (2013). Magnesium in depression. Pharmacological Reports, 65(3), 547–554. https://doi.org/10.1016/S1734-1140(13)71032-6
[9] Tarleton, E. K., & Littenberg, B. (2015). Magnesium Intake and Depression in Adults. The Journal of the American Board of Family Medicine, 28(2), 249–256. https://doi.org/10.3122/jabfm.2015.02.140176
[10] Liu, J., Banskota, A., Critchley, A., Hafting, J., & Prithiviraj, B. (2015). Neuroprotective Effects of the Cultivated Chondrus crispus in a C. elegans Model of Parkinson's Disease. Marine Drugs, 13(4), 2250–2266. https://doi.org/10.3390/md13042250
[11]: Kimura, M., & Itokawa, Y. (1990). Cooking losses of minerals in foods and its nutritional significance. Journal of Nutritional Science and Vitaminology, 36 Suppl 1, S25-32; discussion S33.
[12]: Lee, S., Choi, Y., Jeong, H. S., Lee, J., & Sung, J. (2017). Effect of different cooking methods on the content of vitamins and true retention in selected vegetables. Food Science and Biotechnology. https://doi.org/10.1007/s10068-017-0281-1
[13]: How Cooking Affects the Nutrient Content of Foods. (2019, November 7). Healthline. https://www.healthline.com/nutrition/cooking-nutrient-content
[14]: Medicinal Uses of Seaweeds. (n.d.). Retrieved April 19, 2020, from http://www.ryandrum.com/seaweeds.htm